Gold Medal Flossugar is made from a special sugar-not too fine, not too coarse. Colors have been "vividized" so that you get a bright color, but color concentrations do not exceed the limits set down by Food & Drug Administration's GMP Directives.
Flossugar is packed in sealed 3 ¼ lb cartons. Open the box and pour into the spinner head-no messy mixing or unsanitary sugar buckets.
Available Cotton Candy Flavors
Some flavors are not stocked and require special order.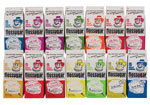 Flavor List:
#3201 Boo-Blue (Blue Raspberry)
#3202 Silly Nilly (Pink Vanilla)
#3203 Spookie Fruiti (Purple Grape)
#3204 Leapin' Lime
#3205 O-Jay (Orange)
#3206 Jolly Berry (Strawberry)
#3207 Cherry Berry
#3208 Bubble Gum
#3209 Pina Colada
#3212 Wacky Watermelon
#3218 Banana Bonanza
#3220 Sassy Apple (Green Apple)
#3226 Sizzlin' Lemon-Sour
#3227 Razzleberry-Sour